When you get this warning & your car may be losing power - your DPF filter system needs immediate attention.
We will diagnose & repair the root cause of your problem, and clean your filter at a fraction of the replacement cost.

We have have a wide range of experience with these systems & have already successfully repaired DPF systems (on car without replacing the expensive DPF filter in 90% of the cases) on these brands of cars
BMW, VW, AUDI, SKODA, MERCEDES, JAGUAR, JEEP, CHRYSLER, PORSCHE, VOLVO, PEUGEOT, MITSUBISHI, CITROEN, RENAULT, NISSAN, INFINITY, MAZDA, SUBARU, HYUNDAI, LAND ROVER, HOLDEN & FORD.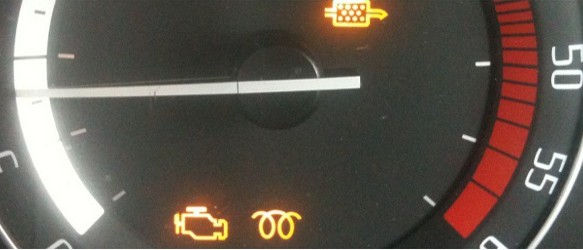 How it works
Diesel particulate filters DPF are installed in most modern diesel engine powered vehicles made since 2005.
They operate by trapping soot that burning diesel produces (resulting in cleaner exhaust) and regenerate (self clean by burning off the collected soot) at set intervals - and depending on readings from the sensors, so the DPF filter does not become blocked.
Once it is over the blockage limit your car may go into limp mode (Critical DPF warning lights on the dash, and or reduced power) to protect your engine and to prevent a fire - as the blocked filter can generate 600-700c degrees of heat.
If you ignore this warning and keep driving daily as normal, over time your DPF filter will become extremely blocked (as it just keeps filling up with soot) and may not be able to be cleaned. In some cases you can damage your turbocharger and cause other expensive engine damage.
It is important that as soon as you get this warning, to get this issue rectified by a specialist ASAP.

How to take care of your DPF
In this system it is imperative that you use the correct low ash engine oil. For example in VW/Audi/Skoda vehicles it is VW 504/507 specification oil.
Using oil that does not meet the specification will produce excessive ash which over time will clog the filter.
It is important that all the sensors, valves and associated components monitoring the diesel particulate filter operation are fully operational.
If you do mostly short distance city driving, it is important that your vehicle is taken on a continuous freeway drive of over 15 minutes at the minimum speed of 80kph (or at the speed stated in your owners manual) at least once a week to initiate the regeneration process.
When you have a problem
If the filter becomes too blocked for an automatic regeneration process then it has to be cleaned manually by putting it into the regeneration mode using our specific diagnostic software and our proven and tested on car DPF repair methods.
All other faults like faulty sensors, egr valves, and many other possible issues will have to be repaired before this can produce a lasting solution.
Just cleaning or replacing the DPF filter without correctly rectifying the root cause of blockage in a vast majority of cases, is a waste of time and money. We have had many of our clients come to us after paying for cleaning/replacing the filter elsewhere - only to have it block up again in a few weeks time.
Your dealer or mechanic will mostly recommend the replacement of the DPF filter and in most cars, the genuine DPF filter is $3000+ (some filters have platinum) with additional labour costs for removal and refitting on top of this cost. If the root cause/causes have not been rectified your new filter will not self regenerate and will block again over a short period of time - you will have the same problem.
At Master Automobiles we will find the root cause and repair all faults on your DPF system, and use a special cleaning agent which can recover a blocked DPF filter without removing it from the car in most cases.
What about removing your DPF filter altogether as some suppliers are offering. Our and EPA advice is - Don't do it.
The DPF filter is installed by your car manufacturer for a reason- to reduce smoke which causes smog, and harmful diesel particulate matter which can get into your lungs and cause sickness and premature death.
It is illegal for a registered vehicle to be used on public roads with manufacturer installed pollution control device which is removed, modified or disabled. The Environment protection authority (EPA) fines can potentially be 10's of thousands of dollars for the vehicle owner and 100's of thousands for the installer.
Your vehicle will also become modified & unroadworthy giving your insurance company a reason not to pay your claim if you have an accident.
We have had vehicles with DPF's removed come into our workshop because they were blowing smoke and or the car was not running well. To rectify the problem we have had to reinstate the DPF system which meant replacing all the components which were removed/modified and repairing the root cause of the initial problem. This cost is much higher than repairing your initial fault in the first place.
Our wealth of knowledge and experience in this area will make sure the solution to your problem is quick, efficient, and cost-effective.
Our workshop is fully equipped with a multitude of electronic diagnostic tools which are updated to the latest software, special component removal, and repair tools, industry's best BG intake cleaning system & walnut cleaning system for stubborn soot which can cause driveability and DPF problems. Most importantly we have qualified diesel and automotive mechanics to quickly and efficiently rectify any issues.
We have had great success with rectifying problems with diesel vehicles without replacing the DPF, even when forced regeneration does not work - because the blockage is over the limit.

This will be at a fraction of the above costs and in most cases can be done the same day - Bookings are essential.
If the filter is severely blocked and does not respond to on-vehicle cleaning or the vehicle has high kilometers (in which case the DPF would have high ash content) we can remove and thoroughly clean the unit off vehicle in-house using our latest cyclonic specialized DPF cleaning machine - if this is possible without filter disassembly (dependent on filter design).We will then refit to your vehicle and thoroughly test your system. This also a more cost-efficient solution over installing a brand new filter.
We can also install new genuine and quality third-party DPF filters, or low km used filters at competitive pricing.
To make this service hassle free we can offer you on request, a free courtesy car for the duration of your service, repair, or inspection.
Courtesy cars are subject to availability. Pre-bookings are essential.
Please call us on (03) 9808 0333 to organise a booking.
Some of our 5 star reviews on



Mark Parigi June 2018
The Guys at Master Automobiles really do know what they are talking about. They are helpful,friendly and look after their customers, especially I felt that recently after coming up from Geelong. They were reliable and explained things in a way the customer should know about their car. I wish they were closer, as it is always hard to find this type of service. Thanks again guys for your Service.
Tracey Coyle June 2018
Had my troublesome Mercedes Sprinter to 3 different so called experts - including Mercedes themselves and nobody could fix it until I took it to Master Automobiles. The team were terrific and now my Sprinter drives like new again. Thanks guys!
Leanne Mumford June 2018
I drive about 1000km each week and had always had my Volvo C30 serviced at the dealership I purchased it from, thinking that they would know how to best look after it. When they told me in late 2017 that I was facing a $3400 bill to have the DPF replaced (which should NOT have had any problems given the kms I drive) I searched on the net and found Master Automobiles. In short, Master Automobiles found the ACTUAL source of the problem, were able to get the DPF functioning again, and it all cost me only a bit more than half of what the dealership had quoted me.
Throughout the process Master Automobiles kept me informed of what they would do and of what they found, and provided me with a loan car to continue my travels.
I am so grateful for their expertise, knowledge and professionalism that I will be coming to Master Automobiles for all future servicing on my car, even though I live in Barwon Heads. These guys really know their stuff!
Louis Doupe May 2018
I had the Infinity Dealer tell me that I needed a new Particulate filter at a cost of $4,000 + and I rang the guys at Master Automobiles, who advised it was unlikely in need of replacement as the car had only traveled 75000 Kms. They diagnosed the fault as oxygen sensor and replaced and tested the particulate filter.
the service was first class, and they saved me $4,000
Marryanne MacDonald April 2018
The service I received from Chris was fantastic. I took my 2008 BMW X5 to him due to dpf warnings. Within a few hours he fully diagnosed the problem, which was unrelated to dpf. He was thorough when explaining the issues to me and was patient with any questions I had. Since the repairs, my car has been driving better than ever. Their experience and honesty was very reassuring to me, being a young female. Highly recommend to anyone experiencing similar problems.
Tracy Eastwood April 2018
Purchased a second hand ford kuga from a dealership had nothing but trouble for the first four months. After many trips to my local Ford dealership and a great amount of incompetence from their service department they eventually tried to suggest i needed a new DPF filter which i suspected was not going to fix the issue. After a little research i discovered Master Automobiles and gave them a call. They were fantastic. DPF did not need replacing they fixed the root cause of my issue and four weeks of driving later i have not had a single issue with my car. Previously i had check engine lights come on weekly with Ford unable to diagnose.
Cannot reccommend this buisness highly enough especially if you have diesel DPF issues. Will be a returning customer. Thankyou so much for making my car reliable and working!
Vince Gill April 2018 
Terrific service, practical approach to fix what is necessary. Good value.
George March 2018
When my Sprinter van went into limp mode I took it to my M.B dealer, they said it was my DPF and it will cost $5,500 to have it replaced. I found that price over the top so I took it to Master Automobiles and told them I wanted the DPF changed .
I should have listened to them and got them to check out the problem and get their opinion first, but I really thought that M.B dealer was right, so I got them to change the
DPF . Well egg on my face lol it wasn't the DPF it was another problem which they repaired.
these guys are good I should have listened to them.
No matter what any other dealer or mechanic says get these guys to check it out first.
About three months later my van has nearly done 400,000 ks in 5 years it was time for the alternator to go, it lights up on the dash warning .
without blinking I drove it straight to Master Automobiles I had it there about 4pm.
The next day it was repaired these guys did me a favour, I could not ask for anything more.
I now take my van to these guys for all my servicing , they do a fantastic job and a fair price.
I live in Brunswick, Master Automobiles is in Burwood ,not exactly around the corner but I find I can leave my van there in full confidence knowing it will be well looked after.
Patrick Sportelli January 2017
In August I had problems with my DPF in my 2008 twin turbo BMW X5, I had taken it to a prestige dealer that specialises in BMW and they assured me with a 95% certainty that they would be able to clean my dpf filter the cost was just under $2000, the car was great for two weeks and then the problem reoccurred and a subsequent two cleans where not able to clear the filter of the blockage and the only option was a new dpf approximate cost $5000-$6000.
This did not sit well with me so I continued to research and fortunately came across Master Automobiles, their approach to the problem was completely different to what all others had told me including Doncaster BMW and what I read online, they wanted to address the cause of the blockage not the blockage itself claiming that cleaning the filter without dealing with what had caused the blockage would only lead to it happening again. I won't lie I was extremely skeptical and as a result I have waited four months to post this review but I am pleased to say that the car has been perfect from the day I picked it up from them, the repairs were completed quickly and I can't recommend them enough. Don't hesitate to give them a call if you are experiencing a similar problem.
Mark Choo January 2017
The best service available for BENZ models and good for any special needs and any problems, not only normal service but also any other issues. All stuff explain - explain problem causes and detailed explanations including how they solved the issue. If you have got a problem with your BENZ car the place to take it is The Master automobiles
Lewis Kaerger December 2016
This shop would be the best of any I have used for my vehicles over 40 years. My diesel jaguar 3 litre, was continually in the dealer shops but very few of the issues were fixed. From the first service which was much cheaper than that dealers it has performed as expected. Highly recomme
Doug McPhee December 2016
Honest and professional. Straight shooter mechanics (rare) who are reliable and aren't looking to rip you off like a lot of other places. Also no way they're going to put the apprentice near your car! All in all, very happy.

Andrew Inchley December 2016
Thoroughly knowledgable and professional service. Fixed my clogged DPF without need for replacement when others had told me it couldn't be done. After hours pickup also very convenient.
Gian Sberna December 2016
Wow - super impressed with the service and follow-up from the whole team. A long-standing issue with my DPF on my Mazda was completely resolved - for a fraction of the cost proposed by the dealer... Highly recommended!

Cam Roskam December 2016
If your looking for honesty, reliability and professionalism then Master Automobiles is the place for you. Very friendly staff and they are thorough with their servicing. I would highly recommend them if you want your car to have the very best!!

Pat Leahy Novemebr 2016
Friendly and knowledgeable team who go above and beyond for their customers. Whether it's fitting me in to check a problem last minute to make sure the car is safe, major repairs and thorough regular servicing, they do customer service really well! Thanks guys.

Philip Ledin November 2016
I took my Vito to Kaz and Chris due to DPF warnings. Diagnosed and resolved issue. Vehicle running like new ever since. Will have no hesitation in using these guys for future services and already recommended them to family. The courtesy vehicle was a bonus. Thanks
Vince Galea October 2016
I took my Touraeg V10 to Kaz and Chris due to intermittent DPF and EM warnings. Diagnosed issues (which were not DPF related) and also identified others which had not been picked up by previous service providers. Vehicle has been running like a clock ever since. These guys know their stuff.
Daniel Levinson October 2016
My Audi A5 3.0 TDI had DPF problems that my regular mechanic couldn't resolve. He advised me that I needed a new DPF costing $3000+. I took the car to master Automobiles who resolved the problem in 24 hours for a fraction of the cost. The car runs like new. Impressive service, professional attention, they even washed my car. What more can you ask? Outstanding!
Warren Chynoweth October 2016
Amazing!!! Was having endless problems with Mitsubishi not even locating the problem, within 30 mins the guys had it sorted and ready to order parts highly recommend for any DPF related issue
Mandee Ellison August 2016
I have been going to Master Auto for 14 years now. As I update my cars every 3-4 years, the team are now looking after my 4th car. They have always been fantastic, professional and friendly. I have called in several times with minor problems and they have helped me out with little or no charge.
When you drop your car off, they assess it and then ring you to discuss what needs to be done and what it will cost. No nasty surprises at the end of the day!
Michael Egan August 2016
Best mechanics that I have ever had. Send my Audi and Jaguar to these people and they have solved all the bad servicing issues that I have had from other mechanics including Jaguar.
Dushan Lasar August 2016
I took my BMW somewhere else,they had the car for 4 days and couldn't find what the fault was but was ripped off $200 for doing nothing. I pulled it out from there and took it to Master automobiles, they diagnosed the problem and fixed it in 2 days! Great service!
Michelle Treasa July 2016
I took my VW Jetta to Kaz and his team after a whole load of drama from a dealer and two mechanics. The DPF, EMS and Glowplug light lit up on my car right after a service with another service station.
Kaz and Chris were really nice people to talk to and above all they found the root cause. They dealt with the issue with utmost diligence and professional expertise.
They explained what the potential cause was, found it and told me what they were trying to do.
Believe me, I have taken it to mechanics who doesn't know jack about dealing with a VW.
Kaz and his team deliver what they promise...So far my Jetta runs perfectly....so thanks to Kaz....
I highly recommend Master Automobiles to anyone who is reading this review.

Walter Pieczonka June 2016
Took my VW initially to different mechanic as VW people tried to rip me a new one. But soon my issues with DPF filter started to show. Then i discovered via internet Kaz and his business. They fixed my car and gave me some good points as to how to keep it in good shape. They arę the kind of business that will go extra mile for you. Even if you think its expensive, its still cheaper than branded Service and quality is really outstanding. Already recommended them to a lot of friends with European cars. Will not hesitate to recommend them to anyone. Well done Kaz and your Team.
Manoj Ranasinghe June 2016
The DPF warning on my Merc C220 CDI started lighting up after doing 100K. After trying out with my local mechanic first with not much luck (he had diagnostic tools that work on Mercs), a few places specialising in prestige cars I inquired told me if a force regeneration process does not fix the problem, I will have to replace the filter with a new one costing $$$. Lucky I then met Kaz and his take on the problem was very methodical with a worst case scenario of having to send it to Sydney to get it cleaned which would still be about $800 cheaper than replacing. After his initial diagnostics and tests, he suggested the engine thermostat is faulty and he was spot on. I got the car back in 2 days and for past 6 months the light never appeared. Kaz took time to analyse and research the possible root cause and saved me $$$. With overnight drop off facilities and professional service, I'm glad that I met this place.
George Christou June 2016
I bought a 2009 BMW X5 XDrive 35d for my wife a few months ago (second hand) and it wasn't until the "Diesel Particle Filter" message came up that I even knew that such a thing existed! I have a fair knowledge of cars but this took me by surprise. The car drove terrible and I needed to do something about it fast to prevent further possible damage. After doing a bit of research and also after 2 phone conversations with Kaz and Chris I decided to trust Master Automobiles with the job of "fixing" it even though I would be coming from the other side of town. Well not only did they fix the problem, they kept me well informed at every stage and I must admit the car drives better now than when I bought it! They went above and beyond to overcome some tricky scenarios that the car presented them with and completed the job as promised. When this problem first presented itself I immediately considered selling the car but now that we've had the car back for 2 days my wife is more than happy to keep it. So am I. Thanks Chris, Kaz and team at Master Automobiles for returning my car to me absolutely 100%. To quote a legend of the Big Screen...I'll Be Back!!
Sean Tierney May 2016
Excellent service, excellent advise, finally found mechanics that take the time to explain the issues...happy to work within my budget...my car was shiny when i picked it up...these guys take pride in their work...thanks for your helps guys see you when i drop my car in for the next service...